Your 6 Engineering Pocket Guides - FREE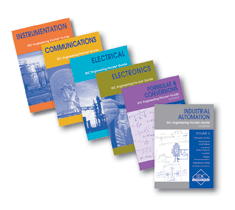 To download our acclaimed Engineering Pocket Guides, Bursting with over 500 pages of valuable know-how, simply fill in the quick form below and you will be directed to our Pocket Guide Download page.
The Pocket Guides are specific to different engineering disciplines including:
Instrumentation
Industrial Automation
Data Communications
Electrical Engineering
Electronic Engineering
Formulae and Conversions
Your information will be entered into our newsletter database for the latest updates on news in the Engineering Industry, but you can unsubscribe at any time.
Information recorded in this form is kept according to our privacy policy
If at any time you wish to UNSUBSCRIBE from IDC Technologies membership, simply e-mail: idc@idc-online.com requesting to be unsubscribed or click on the unsubscribe link in the email. It's that simple!